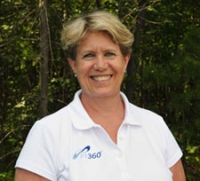 Edie Bernhardt P.T.
Physical Therapist, PT, MPT, or DPT
PT360
426 Industrial Ave Ste 190
Williston, VT 05495
p: 802-860-4360
f: 802-488-3160
Accepts Insurance
About Edie Bernhardt
Edie is a graduate of the University of Vermont with a BS in physical therapy. Her career has included a generalist beginning but then followed a path of further education in the management of complex pain syndromes. She initially began with popularizing aquatic therapy in the early 1990's and expanded to include the management of soft tissue healing as a component of pain management. She earned a national certification as an aquatic therapist through ATRI and has had advanced training with John Barnes, PT myofascial release techniques. She also has earned an AAS degree in body work and massage @ CCV to add further depth her manual skills. She is skilled at integrative dry needling and uses various pain management approaches to address the needs of each patient that she sees. She looks at the whole body as she helps each patient establish an approach to minimizing their pain and functional deficits. Patient education has an ongoing thread in each session and the end result is an informed patient with the means to manage their pain.
Edie Bernhardt hasn't specified any training or credentials.
myofascial release — John F. Barnes' instructed manual approaches
advanced aquatic techniques — ATRI certified
Integrative dry needling (Dr. Ma's IDN)
Edie Bernhardt hasn't specified any additional languages.